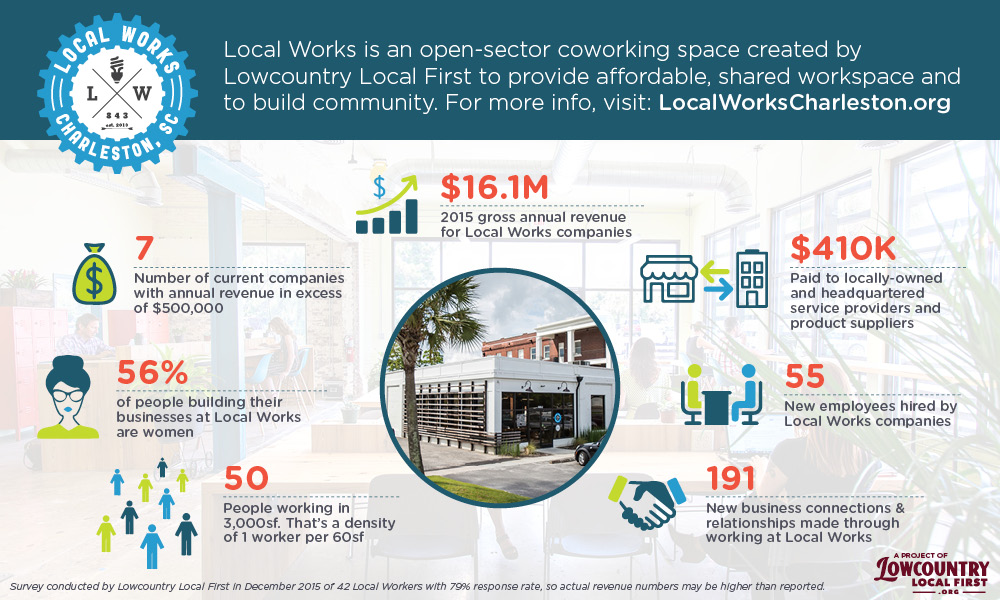 2015 Coworking Study Results
By: Shari Knight
Local Works serves as the hub for over 40 local entrepreneurs with businesses ranging from accountants to artisans. The Local Works space grew quickly in just under two years, which goes to show that like major metropolitan cities, Charleston is expanding its thinking in terms of traditional work spaces. Local Works is located in the Upper Peninsula, but draws entrepreneurs from across the Lowcountry. This 'mobile office' is a valuable resource when it comes to meeting with clients, forming new business relationships, printing documents and receiving packages.
Local Works offers an affordable commercial space for thriving start- ups as well as established local businesses.
In 2015 alone there were 55 new employees hired by Local Works business owners. Our local economy is the primary beneficiary when numbers like this are generated. In that same year, Local Works won the US Small Business Administration's Growth Accelerator Fund competition. More than forty judges considered over 800 applications, which included the "applicant's stated mission, founding team members and business goals among other core components." Local Works was awarded $50,000 to reinvest into our organization's growth.
With an eye on expansion and representation, over 56% of the companies operating out of Local Works are owned by women. Local Works is in the growing businesses business, with that mission as our fuel we've fostered over 191 new business relationships.
"Coworking is redefining the way we do work.

Inspired by the participatory culture of the open source movement and the empowering nature of IT, we are building a more sustainable future.

We are a group of connected individuals and small businesses creating an economy of innovation and creativity in our communities and worldwide.    We envision a new economic engine composed of collaboration and community, in contrast to the silos and secrecy of the 19th/20th century economy."
Connecting business movers and shakers is on the pillars of being a successful co working space. We believe that these connections enhance the quality of a product, event or service. It's about more than just having access to event and meeting spaces, 24/7 access for our full time Locals and a kitchen stocked with items from local purveyors and Lowcountry Local First members. It's about fostering an atmosphere for collaborative efforts, encouraging networking, advocating on behalf of and supporting our co working members.
According to Fast Company 

"71 percent of participants reported a boost in creativity since joining a co working space, while 62 percent said their standard of work had improved."
Our aim is to ultimately be the example of the change that we want to see in our local community and economy.
If you have additional questions or curiosities about the inner workings of a co working space and if it would be the right fit for you; please don't hesitate to drop into Local Works and take advantage of our free day pass. Our aim is to ultimately be the example of the change that we want to see in our local community and economy. We'd be honored to welcome you into our community and serve as your support system.
For more information, please visit: http://www.localworkscharleston.org/
—–
Shari Knight is a guest blogger for the Upper Peninsula Initiative and is the Engagement Coordinator at Lowcountry Local First with a heartfelt vested interest in the stability and growth of the local economy and how that affects the community.