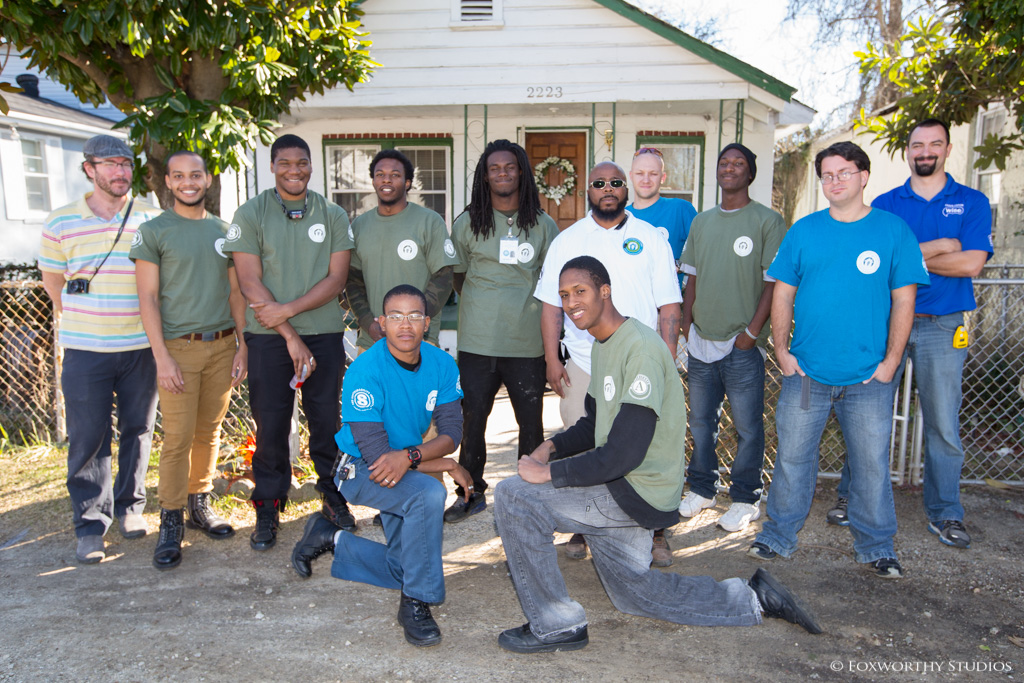 SHARING THE SUCCESS OF SI'S MARTIN LUTHER KING, J.R, DAY SERVICE PROJECT
This January 19th on Martin Luther King J.R. Day, The Sustainability Institute ("SI") conducted an important service project to benefit low income homeowners living in the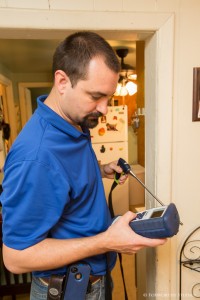 Charleston Upper Peninsula. SI understands that many of these residents face significant challenges to operate and maintain their homes. Many of these homes were constructed between the early 1900's and 1950's, decades before modern day construction practices or energy codes. The age, outdated systems and inefficiencies of these homes often result in high energy costs. It is not uncommon for families to spend an upwards of $400 – $500 month on utility costs in homes that are less than 1,500 square feet in size. These costs are unaffordable for most families and often cause significant economic hardship.
SI also frequently finds troublesome health concerns that are most often related to one of three issues commonly seen in homes of this age:
Structural problems – Directly related to the age of the structure and the use of outdated construction techniques. Structural problems can pose a danger to occupants.
Backdrafting combustion equipment – Gas appliances and furnaces that are old and in disrepair can backdraft carbon monoxide into the house.
Moisture/ mold intrusion – Age and disrepair of the home structure often causes moisture problems which can lead to mold, mildew and indoor air quality problems.  Exposure to mold can cause serious health and respiratory problems.
Goals: (1) to improve the comfort and quality of life of living in these homes and (2) reduce the burden of high energy costs for families in the Upper Peninsula that can least afford them.
To achieve these goals, SI identified, tested and fixed the homes that could immediately be improved with energy efficiency upgrades. SI also inventoried homes that required other repairs to prepare them for energy efficiency upgrades. These homes were referred to agencies that could address these issues and get them back in SI's pipeline for upgrades to occur at a later date.
To find homes and families to receive these energy upgrades, SI reached out to multiple neighborhoods in the Upper Peninsula area, including North Central, Rosemont, and Silver Hill. Successful candidates met three criteria: (1) the home had no major structural or health issues; (2) the home would immediately benefit from an energy upgrade and offer a 5 year or less payback on investment; and (3) families that qualified as low or very low income based on HUD guidelines. SI met with neighborhood presidents, walked the neighborhood streets to meet homeowners, and spoke with the leaders of local churches. A total of 8 homes were identified for evaluation.
The energy efficiency work was done by the Energy Conservation Corps program ("ECC").  The ECC is an AmeriCorps-affiliated, workforce program that trains two important populations in our community – military service veterans and at-risk, young adults – to become certified "home performance contractors". This innovative and award-winning model provides underutilized individuals facing barriers with an opportunity to retool their skills and find employment success in the growing industry of energy efficiency/building performance.
On MLK, the ECC conducted comprehensive energy audits for each of the 8 homes and performed blower door, duct blaster and infrared tests. These tests measured the leakiness of the structure and ducts, located air infiltration occurrence and identified the most important priorities for investment in upgrades. Families were involved in the process and were educated about the tests occurring on their homes as well as about things that they could do on their own to further reduce their energy costs.
Of the 8 homes tested, 3 were good candidates for immediate efficiency upgrades.  In the following weeks, all 3 homes were retrofitted. These homes were air sealed, the crawl spaces, attics and attic hatches were insulated, the duct work was repaired, the hot water heater pipes were wrapped, incandescent lighting was replaced with compact fluorescent lighting, and new water-saving shower heads were installed. On average, the ECC's post-retrofit tests showed that the homes achieved an average 30% energy reduction, with one home showing an estimated 40% reduction.
To put it mildly, the families receiving the upgrades to their homes were ecstatic to have been chosen!  The upgrades will not only immediately reduce their monthly energy bills, but will also greatly improve their comfort and quality of life inside these homes.  It was also a fantastic opportunity for SI staff to work together on a meaningful service project in a community that is relevant to so many of its programs.
SI wishes to thank a number of individuals that made this project possible and well-executed, including:
Katie McKain — Senior Planner for City of Charleston, whose maps, pre-project consultation and general encouragement led to successful outreach and homeowner interest.
Stan Foxworthy– owner of Foxworthy Studios, whose beautiful photographs captured all of the special moments during MLK Day.
Jay Bell, Larry Bratton, Donta Bowens and Chris Lisinki – ECC Program Leadership that has perfected the art of quality, home energy upgrades!
SI and its ECC programs continue to look for low-income homes in the Upper Peninsula and beyond that would be good candidates for an energy efficiency upgrade.  If you know of a homeowner that may be interested, please have them contact SI at 843.747.5885.  SI aims to upgrade more than 80 homes over the next 18 months.
Marie Curtis is a member of the UPI Energy Task Force. Marie has designed energy efficient building systems in Los Angeles, collaborated with utilities in smart grid and renewable energy deployment for the North Carolina Department of Commerce and worked to integrate alternative transportation fuels for The Research Triangle Clean Cities Coalition. She holds a Bachelors in Electrical Engineering from UCLA and a dual Masters in City and Regional Planning and Environmental Science from UNC Chapel Hill. Marie currently works at The Sustainability Institute as the High Performance Building Manager.