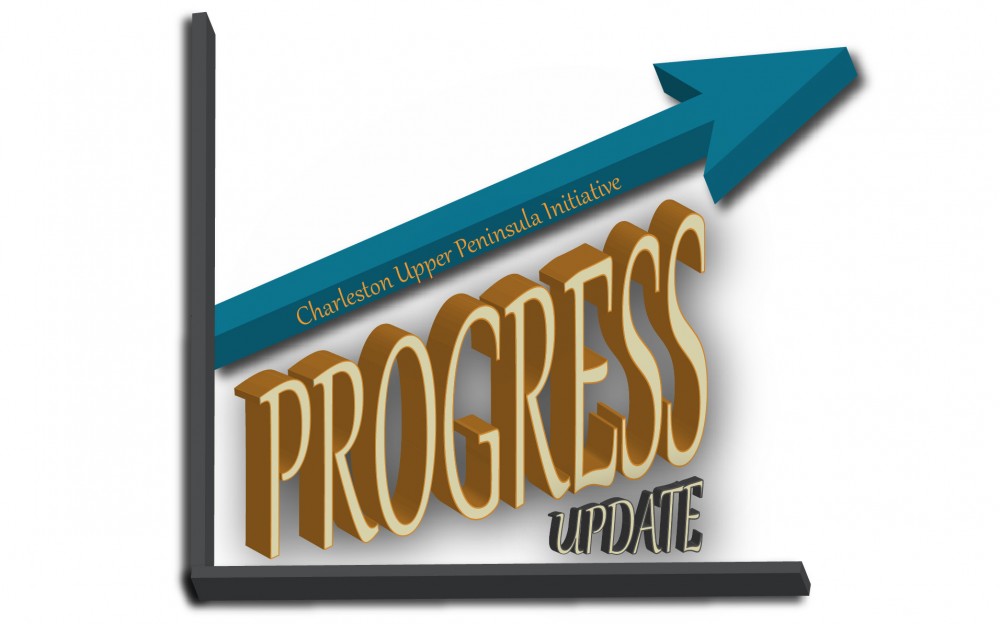 Winter 2015 Update
Check out our Calendar of Events!
On our "Come Play" webpage we feature a calendar full of local happenings and also list information on the restaurants and bars in our study area.  Check it out!
http://charlestonup.com/come-play/
We are excited to announce all 8 Strategy Groups are up and running!
All 8 of the task force groups are in the process of discussing what their goals are and determining projects that could help accomplish those goals.  Once projects are outlined, then they are prioritized, and many need a strategy for funding.  Below are a few of the wins so far from each group, starting with an overview of the 5 most recently started task force groups.
The transportation group is one of our largest groups and is comprised of all sorts of subject matter experts.  Folks in this group include transit planners, CARTA, City planning officials, bicycle advocates, developers, property owners, local business owners, organizations with great interest in advancing mobility in the area, and of course, residents and avid cyclists of the area.  This group is going through Gabe Klein's Mobility study and prioritizing his many recommendations and possible infrastructure improvement projects.  Two projects identified of the Mobility Study include a Trolley Study and a Peninsula Bike Plan, stay tuned for more.  The group is focused on improving mobility for all in the area, especially as density increases.  Do you have ideas you would like to share with this group?  Please Contact Us!
Another group of diverse subject matter experts, the Civic Places task force group has many publicly and privately represented landscape architects and planners, property owners, developers, residents, local business owners, and a variety of organizations focused on parks, community events and real estate.  The group is working on planting more trees in the Upper Peninsula, creating more green spaces for public use, and engaging the community with events and a focus on local art.  Enough Pie is partnering with Revelry Brewing to host a Valentine's Day "Community Love In" coming up on February 14, that will be a free community event open to all and involve painting a community wall on site and gathering artistic ideas for a future mural.  Check our calendar of events for more information.  Do you have ideas you would like to share with this group?  Please Contact Us!
The task force team in the Water group boasts a great variety of stormwater engineers, stormwater designers, landscape architects, local watershed experts, environmental advocates and local businesses.  This performance area recognizes that it is possible to manage water and support functional habitat and ecosystems within urban areas.  The group is working on developing more stormwater best management practice demonstration sites, and encouraging native plantings and infiltration on site.  The Clemson Extension Office has recently released a guide to bioretention cells, which could really help the Upper Peninsula manage stormwater and flooding and is working on many other great initiatives relating to managing stormwater.  Do you have ideas you would like to share with this group?  Please Contact Us!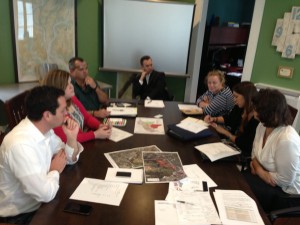 A team comprised of materials experts from all sorts of local organizations and public entities, the group is focused on the  reuse and proper selection of building materials, reducing waste in general and resource sharing.  This group is still  searching for a few residents to join the team.  The team is looking into district wide composting initiatives, and is currently working on updating the Waste Diversion and Recycling Guide, which connects developers with material re-use programs, and gathering more businesses to participate in the Green Business Challenge.  Do you have ideas you would like to share with this group?  Please Contact Us!
This is a group with great ideas that is still looking for a few more interested residents to join in and share views of the local community needs. The group is lucky to have representation from non-profit food and farm advocates, local community garden directors, local businesses, landscape architects, vegetable garden designers, compost advocates, food availability advocates, and City and County representatives.  The group is currently working on a manual for property owners about best practices on contaminated sites and working on ways to provide and/or grow fresh, local food to the area's residents at an affordable price.  Do you have ideas you would like to share with this group?  Please Contact Us!
These groups started in summer 2014…
This group's main goal is to promote equity and opportunities for all residents.  The group is working on maintaining affordability in the area and developing programs to provide more affordable housing and affordable commercial space.
The Urban Form group has been really focused on developing a potential new zoning district specific for the Upper Peninsula to address all the recent growth and development.  The intention is to allow the upper peninsula and its residents to greatly benefit from new developments.  The zoning district incentivizes property owners to include in their development plans items such as: affordable housing, added green space, mobility options, stormwater management and more.  For more information and to be part of the discussion, attend a public meeting about this on February 4, 2015.  It will be at 6pm at the International Longshoremen's Association Local 1422 located at 1142 Morrison Drive.  We hope to see you there!
One of the latest projects the Sustainability Institute piloted on MLK Day was free energy assessments to homeowners in the Upper Peninsula!  More information will be posted soon, but quite a few homeowners who received the assessments were even qualified to receive home retrofits at no cost!  The energy group is also studying the effectiveness of solar power in the area, and gathering baseline energy consumption data.
Get Involved!
We are still seeking more residents and business owners located in the area to get involved.  You may choose to email or call to find out more, we would love to hear from you!
All announcements will be posted on the CharlestonUP Facebook Page , please "like us" and follow us on social media for all announcements and participation opportunities.
Thank you!
Since this initiative is based on community collaboration, we wouldn't be where we are today without the help of all the folks involved.  A special thanks to everyone who is involved in one way or another- please know, your support is appreciated!